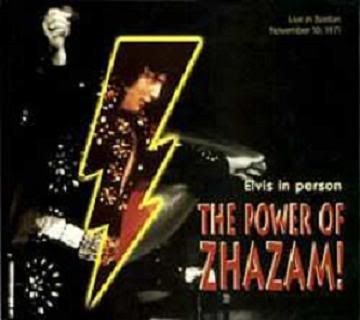 POWER OF ZHAZAM!
Boston, November 10 1971
(8:30PM Show)
Sound: Soundboard
01 Award Speech
02 Also Sprach Zarathustra
03 That's All Right
04 I Got A Woman/Amen
05 Proud Mary
06 You Don't Have To Say You Love Me
07 You've Lost That Lovin Feelin'
08 Polk Salad Annie
09 Coming Home, Baby (instrumental)
10 Love Me
11 Heartbreak Hotel
12 Blue Suede Shoes
13 One Night
14 Hound Dog
15 How Great Thou Art (incomplete)
16 Introductions
17 I'm Leavin
18 Bridge Over Troubled Water
19 I Can't Stop Lovin' You
20 Love Me Tender
21 Suspicious Minds
22 Coming Home, Baby (instumental)
23 Funny How Time Slips Away
24 Can't Help Falling In Love
25 Closing Vamp
26 Pressconference (excerpt from MSG Pressconference , June 8 1972)
27 I'm So Lonesome I Could Cry (Home recording from 1974)
Maby the best release from 1971. A really grate concert. Also the homerecording of I'm so lonesome i could cry is fantastic. I like the jam version better than the Live versions.