"The label Mystery Train who originally produced "When All Was Kool" will release in September a CD titled "All That I Am". This CD will mostly contain interviews recorded in March 1972 and July 1972. About 45 minutes of these interviews are unreleased and should interest the fans according to the available information. Hear Elvis in a very relaxed and candid atmosphere talking about the early days, the army, the tours, his friends, Hollywood, driving a truck, sideburns and several other subjects. The CD will come with an extensive booklet (20 pages)."

Source: ElvisNews.com/For CD Collectors Only



--------------------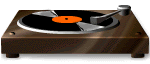 "I'll Never Get Out Of This World Alive..."