Posted by: Tigerman May 27 2005, 10:48 PM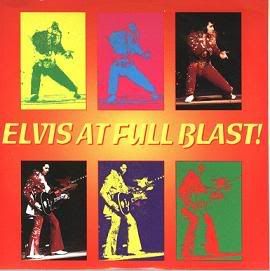 Elvis At Full Blast
Las Vegas, August 11 1972, Midnight show
Sound Format: Soundboard

01 Also Sprach Zarathustra
02 See See Rider
03 I Got A Woman
04 Proud Mary
05 Until It's Time For You To Go
06 You've Lost That Loving Feeling
07 Polk Salad Annie
08 What Now My Love
09 Fever
10 Love Me
11 All Shook Up
12 Teddy Bear/Don't Be Cruel
13 Heartbreak Hotel
14 Blue Suede Shoes
15 Little Sister/Get Back
16Hound Dog
17 It's Over
18 Suspicious Minds
19 Introductions
20 My Way
21 A Big Hunk O'Love
22 American Trilogy
23 Can't Help Falling In Love

A must for any Elvis fan.. A splendid concert full of Energy.
Listen to James Burton go berzerk on polk salad annie.
Posted by: Gordon Jun 20 2005, 01:57 PM
Truly a gyrating performance!!

better than the Dinner Show in Blazing Into The Darkness in my opinion, which is still very good.

Very goo sound also!

Get It!!


http://www.kennyelvis.net/reviews/at_full_blast/index.htm

Posted by: stefan Jul 12 2005, 06:41 AM
A great show indeed, but I don't agree with you Gordon


I think this is one of those ocasions where the midnight show is a bit less than the dinner show.

Posted by: kingofspades77 Dec 31 2007, 07:10 AM
I find the dinner and midnight shows both to be very outstanding performances. This release i.m.o has really good sound upbeat solid as a rock concert!!! A favorite of mine..I love these shows from this vegas engagement aug.'72.

Posted by: colonel snow Dec 6 2013, 09:29 AM
In 2010 re-released on CD The Elvis Summer festival continues at full blast (Gravel Road Music GR CD 7201-02).



colonel snow

Posted by: colonel snow Jun 22 2014, 02:40 PM
Here a clip with the CD.


colonel snow



Posted by: colonel snow Apr 13 2015, 04:50 PM
here a scan of the tape legend.


colonel snow